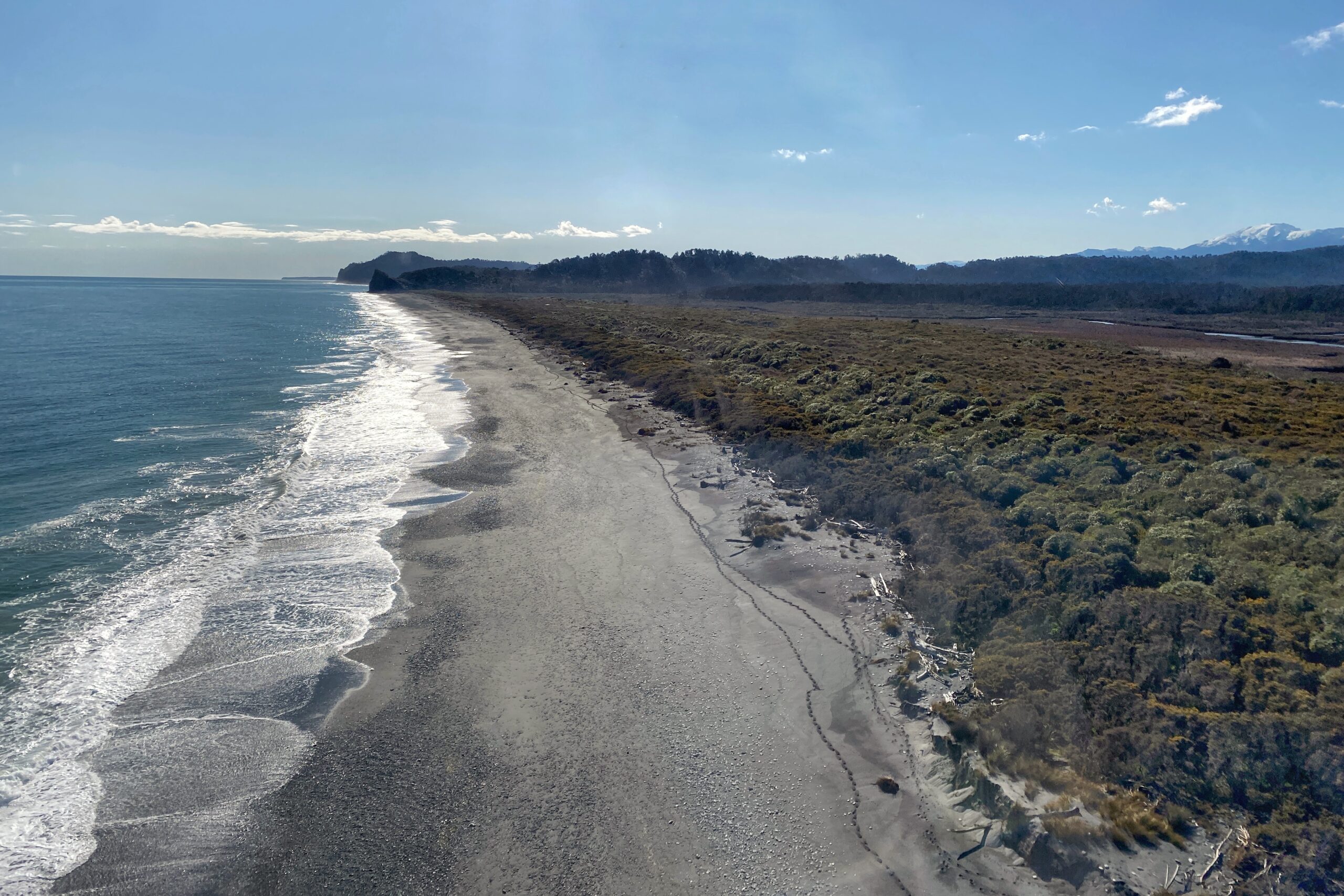 Phase 1 predator elimination operation being completed in the South Ōkārito block
Tuesday 23 November 2021
Phase 1 of the predator elimination mahi in South Ōkārito is being completed this week! We expect to begin the aerial application of cereal bait containing sodium fluoroacetate (1080) today (23 November 2021). The baiting should be concluded by the end of 24 November.
As was the case with the non-toxic prefeed applications earlier this month, this operation will involve:
Closing the Forks-Ōkārito Road between 9am and 2pm (on 24 November) while helicopters are operating overhead and road crews safely undertake post-sowing inspections. There will be no vehicle or pedestrian traffic permitted along the road during this time.
Closing all DOC tracks within the operational area, as well as beach access south of Ōkārito village. These will remain closed for the full duration of this aerial operation, and ZIP staff will be stationed on site and will advise when these facilities are re-opened.
Continuing the use of a drone to apply bait, under the watchful eye of a pilot and tracked with GPS, to see how this technology can be used to eliminate predators. Helicopters, using GPS guidance systems, are still doing the majority of the baiting.
If you are in the South Ōkārito area, please take note of all warning signs and follow the guidance provided. This advice is there to keep you, your whanau, and your animals safe. Please do not touch any bait if you come across it.
Dogs should be kept under strict control at all times and have no access to the operational area, as they are highly susceptible to poisoning. The beaches and river banks are a high-risk area for dogs following aerial 1080 operations. Please note that poisoned carcasses may be present in the area for some months after the completion of this work, and these present a risk to dogs.
With regards to hunting, information on where bait was applied and the associated hunting cautions can be found on the DOC Pesticides Summary page(https://www.doc.govt.nz/nature/pests-and-threats/pesticide-summaries/).
Your support for this important mahi is very much appreciated – we acknowledge that these temporary restrictions may cause some inconvenience. Thank you for doing your part to help make South Westland predator free.
This predator elimination mahi is part of the Predator Free South Westland project, which aims to eliminate predators from 100,000ha of South Westland. Removing predators from South Ōkārito will enable rowi, kōtuku, kea and other taonga to thrive. Eliminating possums also removes the risk of bovine TB for the local farmers. Without these predators around, there will be no need for repeated landscape use of toxins. Furthermore, this project is creating jobs, and maintaining employment, for many in the local region that has suffered economic hardship from the significant loss of tourism.